Richard Ashcroft
Alone with Everybody
by Melody Fox

Rating: Excellent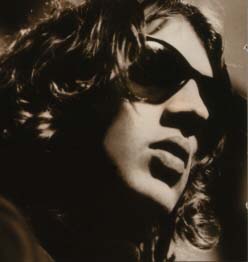 The intro to A Song for the Lovers resembles Bittersweet Symphony and this could mean a nostalgic return to the past or maybe a tribute to this track that brought the big commercial breakthrough to former group, The Verve. The Verve were Richard Ashcroft!
First time I heard the two singles "A Song for the Lovers" and "Money to Burn", I immediately thought…hey, this guy is in love (and not only with life!), he must be inspired by someone who is really special to him. Most tracks were pervaded by love, happiness, sunshine… At the time, I didn't have the album (his Recording Co. was late in giving it to me: we Journalists usually get promo copies) so I couldn't read the "story" on the inner sleeves.
Believe me, there's a lot of news that you can get from these sleeves, especially if one knows how to read in between the lines!
When I finally got the album Alone with Everybody (I eventually bought it…), I read every single word, took in all the pictures and it was all confirmed (…but for now, I'm just sitting at the table, wishing I was able…). Yeah, words like…I hope to see you on the other side…(from Brave New World) could be referred to his Father, who passed away when he was a little boy, or they could be addressed to his beloved sweetheart, Kate, too. An ode to New York, and the up tempo beat of Crazy World have yet more references.
You On My Mind in my Sleep (Kate also plays keyboards here) could be a tribute to his little boy "Sonny", or again to Kate. The 4 things he loves most: Kate, his baby, his guitar, and his dog…all these "personal" pictures of Richard's life are featured on his album.
Whether mellow or up tempo, all the tracks on this guy's first solo effort are great: there is not a boring sound. This Artist is positive and outgoing: you can tell from his lyrics, from his music (all tracks written by him), from his persona… Richard Ashcroft has definitely "crafted" (notice the similarity between his last name and the verb I've used!), both vocally and musically, a superb masterpiece of art in sound that reaches your mind, your soul, your heart, your ears. An album that you will never tire of that is a must in your albums' collection.
I vote it as one of the best of year 2000: …c'mon, Richard (you're making it now), yeah, yeah, yeah…!
2000.10.15 (Sun. @ 9:15 a.m.)--km©